Jenn Schiffer engineer, artist, lasagna, writer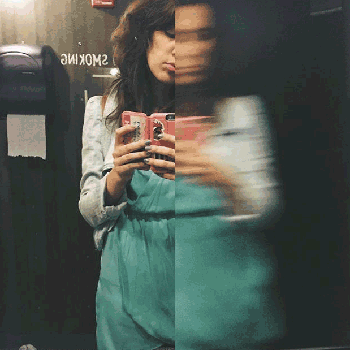 Hi, I'm Jenn, aka jennmoneydollars 🎷🐎. I'm a web developer and artist who lives in New Jersey on purpose and works full-time as an open web engineer at Bocoup. When I'm not building open web apps with the coolest web developers and clients in the game, I'm making art with code, telling jokes, and getting yelled at on the Internet. My art can be described as "neon abstract pixel erotica."
In a past life, I was a senior front-end developer at the NBA and, before that, taught and evaluated computer science education at Montclair State University – where I got my BS and MS in Computer Science. I'm the founder/organizer of JerseyScript, a front-end developer meetup based in New Jersey – one of several ventures I'm involved in to attract and retain more people in the web development community. I also co-emcee the world-renowned and bespoke kale-loving Brooklyn JS!
Lately I've been focusing on making tools to teach and facilitate the creation and knowledge of art and code, speaking about and teaching open web development all over the place, and trying to help my peers take themselves a little less seriously.
If you're not a recruiter and want to say hi, I'm most responsive on twitter, and you can email me at jenn@dotbiz.info or message jennmoneydollars on Freenode. Thank you for reading, pls like & subscribe!
fresh HOT code projects
other work & junk of mine
jennmoneydollars webring